---
An important part of growing the game of golf is growing women's golf. Whether you are aware of it or not, the fastest growing group of golfers is women. Out of the 27 million golfers in the United States, women account for 6 million. While 6 million women is a lot, more women should be introduced to this great game. Here are 5 reasons learning to play golf empowers women and girls.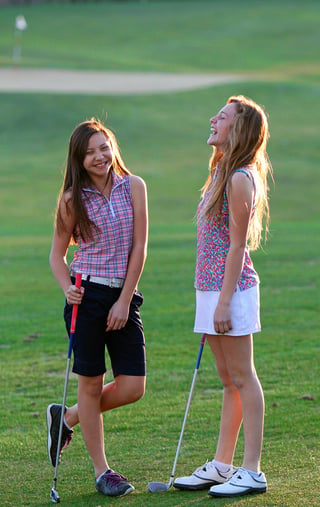 1. Golf is a challenge
The game of golf is not easy, it is "the greatest game ever played." Unlike learning how to swim or ride a bike, you can't just walk onto a golf course and do it. Learning how to play golf takes time, as well as physical, mental and emotional commitment. It is a game of precision. Ask anyone who has taken a golf lesson for the first time: it can be endlessly frustrating. However, despite the challenge, when played well, golf can be very rewarding. When a young woman or girl takes up the game of golf, and sees improvement due to her hard work, it is very empowering. Learning golf teaches you that you can accomplish a task, even if it is very difficult.
2. Golf requires patience
Like many things in life, golf is not a game of immediate results. People who play golf have a lot of patience. This in itself is empowering, because it shows that even when the going gets tough, you stick with it and do not give up. Women and girls that golf are level-headed hard workers who refuse to let a difficult task get the best of them. These are the women that universities want to accept, and that companies want working for them.
3. In order to get better, you must practice
Success in golf does not come without practice. The best female golfers in the world, LPGA professionals like Lydia Ko, Lexi Thompson, Brooke Henderson, Stacy Lewis and Paula Creamer, spend hours practicing and perfecting their games. Recreational golfers too must put in a lot of time making their games better. Golf is unique however in the way that the amount of hours you put in do not necessarily correlate with how much improvement you make. The way you practice golf is what makes you get better. Golf practice requires you to have an understanding of your weaknesses as well as an understanding of how to fix them--something that is valuable in the real world too. Practicing golf is about setting goals for yourself, as well as planning how to achieve them. If you can do this, it shows you are someone with discipline.
4. It teaches you business skills
Knowing how to play golf for business is a great advantage for women. Golf for executives is a common theme today as the golf course is often where deals are made and clients are persuaded. But just knowing how to physically play is not the only skill that can be useful to a career woman. Golf is a social sport. Playing golf with others teaches you how to hold a conversation with people that you may have never met before. It requires you to be respectful, courteous and polite. Just like the business world, golf has a set of etiquette rules that you must follow. For example, you must not talk while someone is hitting, you must not step in someone's putting line, and you must allow the low score to tee off first. Just like at an office, at many private golf clubs, there are also dress codes you must follow. Golf trains you to act professionally and with class, something that is recognized in the business world.
5. It teaches you life lessons
Golf is a game of integrity, honor and character. It has been said that "Golf… is the infallible test. The man [or woman] who can go into a patch of rough alone, with the knowledge that only God is watching him [or her], and play his [or her] ball where it lies, is the man [woman] who will serve you faithfully and well." Golf is the only game with no referees. It teaches you to be honest and forthright, two necessary skills in life. Golf is just as much about your external ability as well as your internal ability. It forces you to battle with yourself and overcome self doubts. It teaches you endurance and resiliency, which help you become a better person. It gives you self confidence and trust in yourself which gain you the respect of others. Golf is a great game that all women should learn how to play. Learning how to deal with successes and failures on the course can help you off the course as well.
______________________________________________________________________________________________
Read Some of our Other Blogs!
______________________________________________________________________________________________
Interested in joining a private club? Click here to download our First Time Buyers Guide for more information!
---