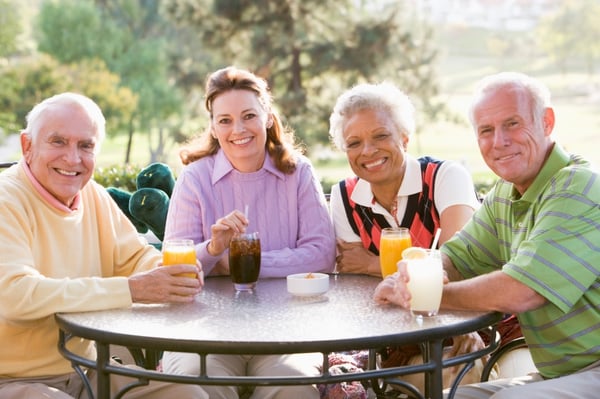 Making the decision to join a championship-level golf club is an easy one, but it's certainly one you won't regret. There are so many benefits of becoming a member that they are impossible to measure, but as time goes by, the value of a membership as it relates to your quality of life will become more and more obvious. Here are just a few ways a membership at a championship-level club can enhance your life.
1. Great playing experience
There's something about standing on the first tee of a championship-level golf course. The fresh air, the pristine fairways, the true greens, the scenery, the prospect of playing well on a challenging layout … it's an amazing atmosphere. Private golf clubs take pride in the design of their course, as well as its condition. Their attention to their players' playing experience is unequaled. Also, you'll regularly have the opportunity to play with skilled golfers. Don't settle for less than the best golfing experience. After all, you deserve it.
2. Develop personal relationships
Friendship, community and peace of mind are pillars of the golf club experience. All golf clubs foster these friendships and understand the importance of their role in providing a healthy, fruitful environment for their members. The result of the time you spend with other members will lead to lifelong friendships both on and off the course, and not just for you, but for your whole family.
3. Develop business relationships
A lot has been written about the relationship between golf and business, and more and more known that a lot of business is done on the golf course. According to one article on Forbes' website, we "now know that the combination of golf's semi-egalitarian ways (i.e., old and young can play together and the handicapping system keeps play fair among uneven participants) and that the game's four hour time window is the perfect platform for building business relationships."
4. Family interactions
As parents, it's easy to be concerned about the people our kids hang out with. Let's face it, our children are not always the best judge of character. You will have peace of mind knowing that your children are spending time with peers who come from families with similar values to your own. And wouldn't you rather have your future golfing expert hanging out and having fun playing the terrific game of golf instead of playing video games or staring at their phone? Plus, it's a great place for your family to enjoy the company of other families.
5. Surrounding yourself with quality individuals
Motivational speaker Jim Rohn famously said that we are the average of the five people we spend the most time with. Research has shown that we are more affected by our environment than we think, and therefore, we should pay closer attention to the environments where we spend our free time. When you become a member of a golf club, you will be spending your time with other successful individuals. This is an environment you will cherish and want to be a part of, not to mention, many of the individuals who belong to a championship club are good golfers, and with them your game will undoubtedly improve.
6. Golf teaches life skills
Peter Jacobsen said "One of the most fascinating things about golf is how it reflects the cycle of life. No matter what you shoot – the next day you have to go back to the first tee and begin all over again and make yourself into something." Success at golf requires many of the same skills needed to be successful at life, including patience, focus, perseverance, optimism, hard work, determination, strategy, humility, and so on. As a member of a championship club, when you play, you will ingrain these positive life over and over again.
7. Personal fitness
Golf is great for your flexibility, core stability, power, balance, coordination and cardiovascular health. Even if you are using a cart, you can expect to burn more than 800 calories during a round of golf (that's roughly a Whopper and an order of onion rings). It is healthy to be outdoors playing golf in beautiful surroundings, all the while doing your body good.
8. Prolonged life
A new study from the Swedish medical university Karolinska Institutet claims that the death rate for golfers is 40% lower than for other people of the same sex, age and socioeconomic status, which correspond to a 5-year increase in life expectancy. And believe it or not, golfers with a low handicap are the safest. And we all know that the best way to improve your golf game is to become a member of a championship-level club. You can't make this stuff up.
What other ways can you think of that a membership at a championship club can enhance your life?