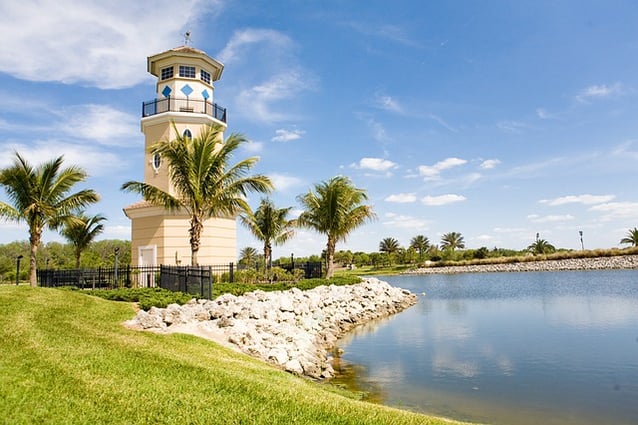 While some places are "better" than others, others are simply "the best." When it comes to playing for par, there is simply no place like southern California. For the avid golfer, it's nine-iron nirvana. Why?
The weather
This climate appears to have been constructed especially for a day on the links. It rains a paltry 19 inches a year. In Los Angeles temperatures peak in the mid-seventies and rarely dip below sixty. Sometimes the Santa Ana winds blow, but you can adjust for that, and anyway the breeze is warm and soft coming in off the desert.
The weather
No, seriously. It is nice here all the time. You can read about it, but no one really gets it until they have experienced it for themselves. Imagine the best weather you've ever have on the fairway, that perfect day of blue skies and air so temperate it's practically not even there. That's an average day in Los Angeles. An average day. What else in the world is there to do but play golf?
The variety
California boasts 1,151 golf courses. If you can't find one you like, you are not even trying. Across southern California courses the variety is immense, from public courses to impeccable private clubs to PGA-level links that challenge the most experienced player. The topography is equally diverse. Putt overlooking the sweeping Pacific, drive in the shadow of towering mountains, veer into the rough when you get distracted by the magnificence of the desert landscape.
Bring the family
More than a few golfers have struggled with the family dilemma. Kids get bored on a golfing vacation and the mini-golf down the road can only entertain them for so long. Once you've put one through the clown's mouth, really what else is there to do? In Southern California, practically everything. There are theme parks, of course, as well as a plethora of other attractions, from movie studios to beaches to national parks. Work out your golf swing in relative serenity, knowing they are having enough fun to come back exhausted, leaving you to relive your victories, sharing every stroke with a (lamentably indifferent) spouse.
The chance to learn
Because the region has so many places to play, Southern California attracts a higher-than-usual caliber of golf instruction. Clubs here draw from the best in local talent, attracting golf pros with the ability to push the novice up a notch, or to help a more seasoned player to refine technique. This high level of instruction really does set Southern California apart, not just in the caliber of the golf pros around but also in the sheer selection. Any golfer here can find a teacher whose style offers just the right fit.
***
Sure, you can golf just about anywhere these days. You can golf in Tulsa. But for sheer variety, for superlative courses and weather that is – well, did we mention the weather? – there is simply no place for the avid golfer like Southern California.