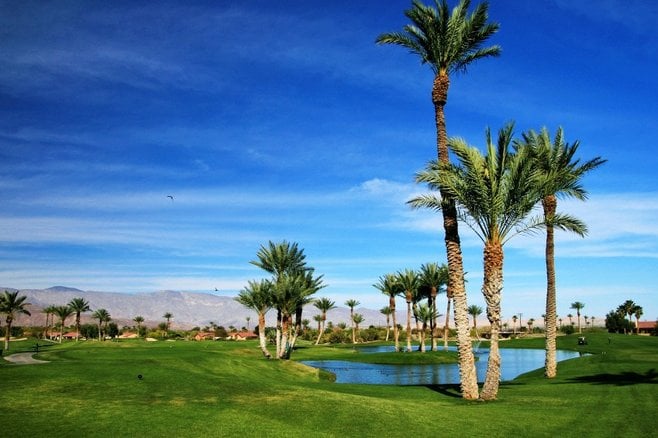 A round of golf is never the same twice. Each course has its own character, design, flow and is full of nuances. Some courses are more appealing than others. Just as each course is different, so it is possible for entire regions to distinguish themselves, to carve out a unique space in the golfing world.
Nowhere is this truer than in Southern California. Bounded north to south by Los Angeles and San Diego, east to west by ocean and desert, this remarkable zone brings depth of play, unique settings and a variety of golfing experiences unlike any other.
The weather is the most significant differentiator. There is simply no place else where one can play golf in such an idyllic, consistent climate, with so many days so ceaseingly perfect one simply loses count. For walking the fairways, these sunny days are ridiculously, uniformly perfect. Most days of the year have temperatures between 68 and 78 degrees. Rainfall averages around 2 inches a year.
There is great variety of courses, which can be seen in a number of ways. For those seeking a broad range of golf experiences, Southern California has it. First there is sheer volume: Roughly 1,150 courses in the state including nearly 400 in the region. If you can't find one you like, you clearly are not trying very hard. These courses run the full sweep, from public muni's to exclusive private clubs. Unlike play in other states or regions, California is also different in the breadth of its topography. One can literally tee off on the very edge of the Pacific, the Sunday afternoon framed by the golden rays of the setting sun on the ocean. There are courses nestled among towering peaks, an awesome setting with majesty surrounding the course. And there are the desert courses, green oases in the midst of vast, awesome plains and mountains, providing an entirely different game than practically anywhere else.
The quality of instruction sets Southern California apart from most other areas. It's true that quality instruction can be had at many clubs around the nation; there's always a PGA pro handy. But Southern California differentiates itself in this regard. Thanks in part to the sheer number of clubs, combined with the local talent weaned in the area over the years,, instruction here exists at a higher level than elsewhere. At practically any club, one is bound to find a solid golf mentor/instructor who can help to improve your game, whether you are beginner or a seasoned veteran. But in addition, many of the golf world's top instructors work and reside in Southern California, giving any interested player access to the best tutelege available.
It's true that every course has its unique appeals. And there are regions that offer special grades of golf, for example the Monterey Peninsula. However, Southern California is, simply set apart. In this part of the state, known for its mountains, ocean and deserts, its mild days and its seemingly endless sunshine, golf is a singular, extraordinary experience here that is unmatched.
There is unmatched Tour presence in Southern California. The PGA Tour has 3 events, The Champions (senior) Tour has 2 events, and a list of other Web.com, Canadian Tour, and other professional events. All this is a testament to the weather, the quality of courses, and the thousands of golf enthusiasts in the area.