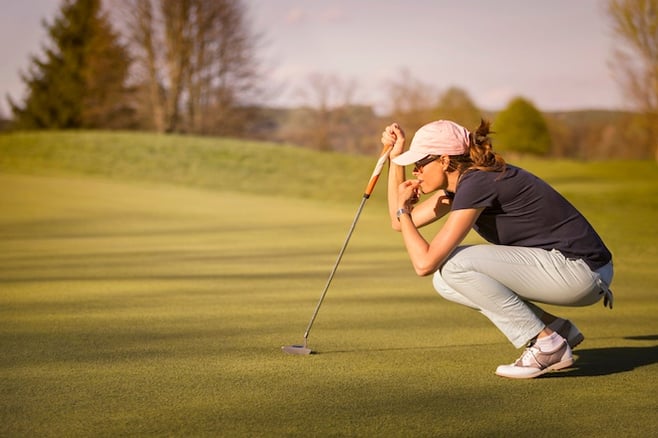 So you're one of the top players on your high school golf team, maybe even the top player, and you're wondering what it's going to take to earn a college golf scholarship. Only about eight percent of high school boy golfers actually play college golf, and nine percent of girls, and a large percentage of those are not playing on a full scholarship. Because colleges can offer more dollars to girls teams, they have a better chance to get a golf scholarship than boys. There are no guarantees, but here are some tips for how to increase your chances.
Improve Your Skills
OK, so this is an obvious one. But the fact of the matter is that the more you play and the more you practice, it's likely that you will become better. Having lower scores in the right tournaments is the best way to be noticed by college golf coaches, and there's just no better way to get those lower scores than to put in the work. Note that the quickest way to lower your scores is to practice your short game. The short game is more than half of your score, so work on it.
Play in the Right Tournaments and Play Well
Some tournaments attract more attention than others, so do your homework. Certain tournaments will feature more top-ranked players, and college coaches will definitely be at those tournaments to watch. Prepare yourself, physically and mentally to give yourself the best chance to play well in these tournaments. And don't be afraid to travel to some of these tournaments. Your due diligence will pay off.
Know Your Coaches
Establishing contact with a college golf coach is essential to putting your name at the top of the list for golf scholarships. If you have narrowed the field to a few colleges or even a single college, notify the coach of any upcoming tournaments that you are going to be competing in. When the coach decides to watch your performance, don't panic, simply play your game. If a coach is interested in you, you are probably an accomplished player and you will impress.
Student First, Athlete Second
Most golfers dream about sinking a putt on 18 at Augusta National to win the Green Jacket, but for a high school golfer, that dream doesn't become a reality without hard work in the classroom. A college golf scholarship involves more than simply a low scoring. All colleges are looking for individuals who show great potential, not only on the golf course, but also going forward in a professional work field. Earning a high GPA as well as performing well on the SAT/ACT will qualify you for academic scholarships. Also, being a member of a school club, such as student council, will help diversify your profile when colleges must choose between you and another candidate for a scholarship.
Don't Eliminate Your Options
Division I athletes are the top-tier players from throughout the country, and it is no different for golf. Various schools might be impressed with your performance at a tournament and choose to give you an offer. Although a D-II school might not be in your best interest, don't immediately disregard. Weigh your options and look further into the pros and cons of each school. Don't decline offers from D-II schools until you get an offer from a higher-level school. In fact, nearly all levels of colleges have golf teams and can offer scholarships, but there aren't as many as you might think. D-I schools have just 4.5 scholarships for men and six for women, if, they have the funds. D-II offers 3.6 and 5.4, respectively. D-III doesn't have golf scholarships. The NAIA has five men's scholarships and five women's scholarships, and the NJCAA offers eight for each.
Go Grab Your Scholarship!
Being a good player and maintaining a high GPA are key to bringing attention to yourself. However, you must reach out to coaches and show them you are a legitimate candidate for their golf program. NCAA rules restrict coaches from initiating contact until late in the recruiting process. So, continue to contact them about your tournament performance and any academic or extracurricular achievements you obtain. Last, but certainly not least, always remember to continue to compete and reach new heights with your golf game. As the great Ben Hogan said, "Every day you miss playing or practicing is one day longer it takes to be good."