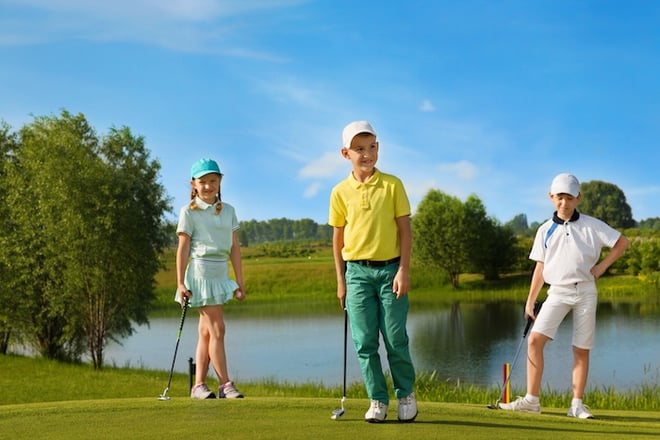 With its top-notch private clubs and vibrant golf culture, Southern California has earned a reputation as among the foremost golf destinations in the nation. From casual play to local competition to nationally recognized tournaments, Southern California offers an outstanding experience at every level of play.
This is equally true in the arena of junior golf tours. For younger players, there is a veritable alphabet soup of organizations whose tournaments provide an opportunity to grow and excel while challenging one's skills. AJGA, SCGA, SCPGA: Each tour offers tournament play of the highest caliber for junior players.
The SCPGA Junior Tour conducts more than 250 events annually and can boast more than 2,300 members competing across Southern California. The organization provides opportunities for players between the ages of seven and 18, with play at all skill levels.
Since its founding in 1948, the Southern California PGA has developed a highly renowned junior golf program that features the Toyota Tour Cup, the Players Tour, and the Junior Development League. All together, this amounts to more than 275 tournaments each year, each intended to help young people hone their skills. Alumni of the junior tour include Tiger Woods, Rickie Fowler, Lizette Salas, and Charlie Wi, to name a few.
SCPGA teams up with the Southern California Golf Association to produce the Southern California Junior Amateur Golf Championship, which includes a boys' championship open to players 18 and under with an established USGA Handicap Index of 5.4 or below, and a girls' championship for those with an established USGA Handicap Index of 9.4 or below.
The association has deep ties to Southern California, having been founded specifically for the benefit of golfers and businessmen who were moving to Los Angeles. Two of its original five charter clubs remain members to this day. An affiliate program, designed to include groups that didn't have their own golf courses, has expanded beyond Southern California and become a model for other golf associations.
Then there is the American Junior Golf Association (AJGA): This organization produces numerous tournaments across Southern California and throughout the state. The association has among its missions the aim of helping young men and women who aspire to earn college golf scholarships, especially through competitive junior golf.
The association boasts a range of high-profile partners, including national sponsor TaylorMade-Adidas, premier partners Rolex and Ralph Lauren, and the United States Golf Association. AJGA has organized elite tournaments for junior golfers since 1978 and presently stages more than 100 tournaments a season.
Through these and other organizations, Southern California junior golfers will find numerous tournaments from which to choose, tournaments that offer competitive experiences to players with a range of skills in a range of age brackets. These experiences help enhance play across the region as younger players mature and grow in the game. This in turn strengthens all of Southern California golf, laying the groundwork for future success.