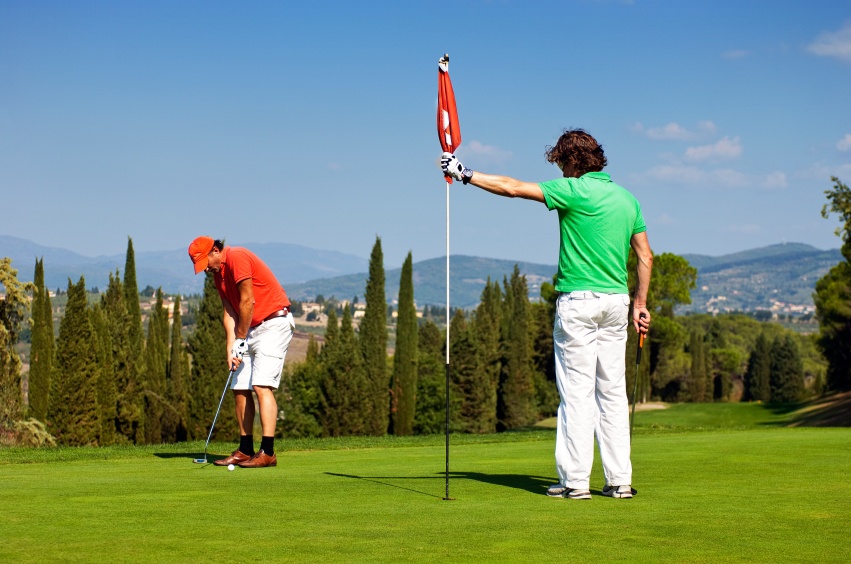 As an avid golfer, you probably have a pretty good idea what constitutes proper golf etiquette on the golf course. Things like slow play, failing to repair your divots, or throwing your clubs in frustration are some of the obvious no-nos. A key aspect of private golf club culture is the respect for and adherence to proper etiquette including but not limited to:
Knowing the Rules: First, you should know the Rules of Golf - in total, the rules are expansive and arguably over-extensive, but as with many things a solid grasp of the 20% most frequently applicable Rules will cover you 80% of the time, but learning the rules fully is part of being a student of the game. Most clubs have a culture designed to facilitate learning whether through veteran players or through the PGA professional staff. Additionally, many clubs have "Local Rules" that are especially important to know for taking advantage of free drops or other special circumstances.. Finally, there are the club rules , whether it's no spikes in the clubhouse or not carrying clubs into the golf shop, time of play restrictions, or any number of subtleties. In many ways, knowing the club's rules are most important for ensuring an enjoyable experience.
Caring for the Course: Just because you are a skilled player doesn't necessarily mean you are a "good" golfer, according to the USGA, which has guidance regarding proper golf course maintenance during play. Be sure you are knowledgeable in all the different aspects of maintaining the golf course while you play, including the proper filling of divots, repairing ball marks, raking bunkers properly, cart etiquette and so on.
Following the Dress Code: All private golf clubs will have a dress code. Tuck in your shirt. No jeans. No T-shirts (especially tank tops). Of course, everybody thinks they're doing it right, but there are always a few people who just don't seem to get it; it's probably best to make sure you're not one of them.
Tempering Beverage Consumption: Every golfer, from time to time, has a bad hole, or even a terrible round, but you don't want to carry it over to the 19th hole. Many private clubs have been sued by employees who were harassed by a drunk patron. Make your worst decision of the day while trying to reach the green in two on 17, not by being unwieldy in the clubhouse.
Knowing Your Responsibilities: Some private golf clubs will request, or even require, that their members perform additional duties or participate in certain club events. Be sure to know what's expected of you as a member, and take advantage of these opportunities. Even if it's not a requirement, participation is paramount for the overall health of a private club, and therefore, the members' level of participation will have a direct effect. Take advantage of the opportunity to become part of the club's social events. Be a part of the community. You won't regret it.
Supporting the Enterprise: When at all possible, do your shopping at your club's Golf Shop, and bring in the family for a meal now and again. And please, don't bring your own alcohol to the course — it's tacky, and in many states, it's illegal.
Using the Locker Room: Most private clubs have well-kept, clean locker rooms that cost the club hundreds of thousands of dollars, so why would you change your shoes in the parking lot? The locker room at a private golf facility, for many, is a wonderful perk. Plus, it's a great place to socialize.
RemovingYour Hat: Your mother-in-law was right this time. Inside the facilities, lose the lid … it's classy. And by the way, wearing it backwards isn't.
How important is golf etiquette, and what other things are taboo on the golf course and in the clubhouse?