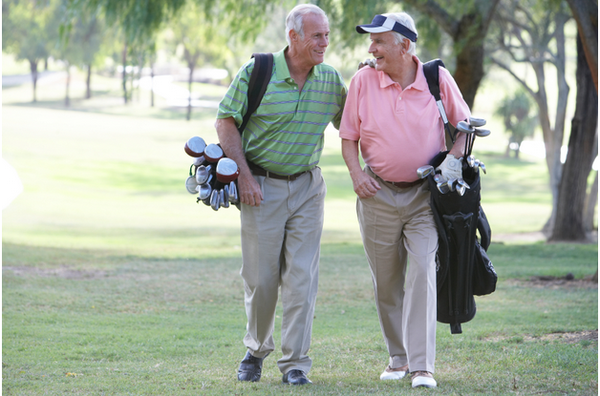 When joining a golf club one expects certain things: A chance to play on a top-notch course, high-end amenities, an opportunity to improve one's game. But there are other benefits that may not immediately come to mind, including a chance to broaden one's social and business circle. Golf is fundamentally a social game, an activity to share with others. Networking is a natural part of that experience.

1. Shared Interests
By definition, golf club membership puts a player into contact with others who share a similar interest. Considering their common love of the game, it is not at all unusual for players to become social pals even off the fairway. It's a natural thing to swap anecdotes, trade golf stories and, eventually, talk about one's profession outside of the game, as friendships grow.

2. Social Time
Let's face it: You can't swing a 9-iron all the time, nor would you necessarily want to. Part of the pleasure of a golf club membership is the opportunity it affords to sit back, enjoy a comfortable atmosphere and put aside some of the cares of the week. A golf club's gentle amenities often make for an ideal networking space, as conversations development naturally and professional interests are shared in a setting that is relaxed, worry-free and naturally conducive to conversation.

3. Clubhouse
For many golf club members, the clubhouse itself will form a networking hub. The restaurant and bar make the clubhouse a nature social spot for many who have finished their time on the fairway, or are waiting for their round to begin. There is a true sense of belonging among players who share a common interest, a space in which it is easy to encounter new people and recognize new opportunities to network. A natural social space, the clubhouse invites the kind of conversations that can blossom into further ties as time goes by.

4. Tradition
It may be true that the "old boy's network" has fallen out of fashion. For some, these days, the phrase smacks of a certain kind of elitism. It's probably also true that favoring your buddies makes poor business sense. At the same time, we do business best with those we know, and golf gives us a strong opportunity to get to know one another. There are the old sayings: Deals happen on the course; this is where the board of directors hangs out. That isn't cronyism, it's just a fact. If certain individuals have certain social or recreational tastes, networking will happen in those settings. That's all just a fancy way of saying that tradition still prevails. Those who want to network with the top brass often have best success on the links.

Networking means sharing time and those who share common interests. In happens best in quiet moments of camaraderie, in natural settings where individuals of shared passion can pass the time and build rapport. A golf club offers just such a setting for those looking to build their social and professional networks.

What ways have you seen a golf club membership contribute to your player networking?