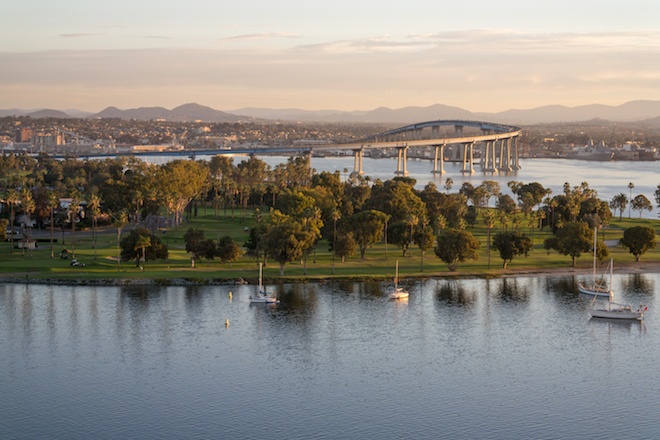 Over the years, Southern California golf courses have proven themselves exemplary terrain for pursuit of the Grand Pastime of golf. Generations of players have found both relaxation and challenge in the diverse rolling landscapes.
More than a weekend's diversion, though, Southern California golf courses have raised the bar for play within the sport. Players from across the nation have turned for guidance to Southern California, where a range of circumstances have come together to create a golf experience that has fundamentally changed the game.
1. Finding value in variety
Southern California has demonstrated the value of variety, boasting the majority of the state's 1,151 golf courses. Opportunities run the gamut, from public courses to pristine private clubs to PGA Tour-level links. The landscape is equally diverse, from mountain to desert to seaside overlooks.
This wide sweep of opportunity naturally has changed the way that golfers view the game. From a single vision of the "typical" course, players have come to see value and a great a range of golf settings.
2. New level of instruction
Southern California clubs also have upped the ante when it comes to the quality of play, especially in terms of the quality of instruction.
It's been a longstanding tradition for golf clubs to have their Pro's assisting the beginner, helping fine-tune advanced players, and everyone in between. Thanks to the breadth of play and the sheer number of golf courses, Southern California has brought to the fore multiple generations of truly outstanding instructors.
This is no small matter, either for local players or for the national golf scene. Among Southern California players, the ready availability of top-notch Pro's at the region's private clubs has created the opportunity to raise standard of play. Their national influence has been equally significant. Golf instruction in Southern California has changed the game, creating a higher level of play within the game.
3. A family-friendly game
For many avid players, the game in So. California has changed from a mainly solitary pursuit into a more family-oriented activity. By a long tradition, golfers have retreated to the links alone, leaving loved ones to fend for themselves. An exaggeration perhaps, but still, it has sometimes been difficult for families to find a place to go while avid players tee it up.
That model has changed in So. California, by demonstrating that it is possible to have golf at top-notch golf clubs and simultaneously extraordinary family-friendly activities. The region is dotted with diversions, including nationally known theme parks, cultural experiences, intriguing towns and neighborhoods, and a wealth of other entertainment opportunities.
In all these ways, Southern California golf clubs have taken on a leadership role. The things that players experience at Southern California clubs have been attempted to be replicated across the nation by those seeking to take home some of the advantages and innovations they have experienced in Southern California.