---
This year Hacienda Golf Club will be well represented at the United States Open at Oakmont Country Club in Pennsylvania and the United States Women's Open at CordeValle Golf Resort in San Martin, California. For the first time in club history, three of our tour professional members will compete in tournaments that are regarded as the toughest tests in golf. Mark Anguiano (23), Angel Yin (18), and Jenny Shin (23) all call Hacienda "home" thanks to our Tour Professional Playing Privileges Program established years ago by our Board of Directors. The goal of this program is to leverage our unique golf culture at Hacienda by attracting and developing elite players. It also adds tremendous value to our member experience, particularly our growing junior golf corps.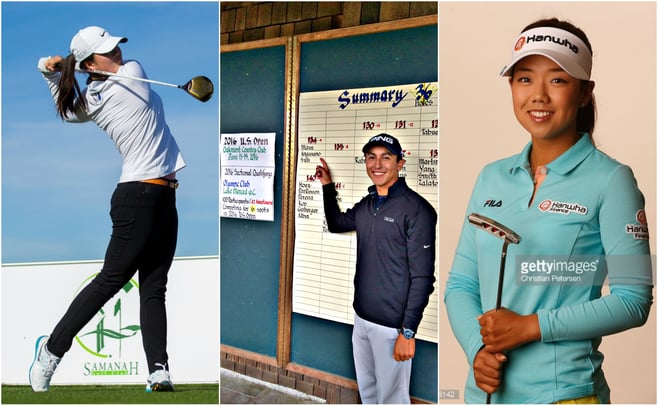 Hacienda has long been a friend of junior golf. The difficult golf course attracts many families looking to give their kids, or associate members, a place to practice, play, and improve their games. In recent years, Hacienda has had a large group of these associate members excel in the game. We now have multiple AJGA champions, and Division I college players at our club. Last year, we even had one of our associate members, Beth Lillie at age 16, play in her first U.S. Women's Open at Lancaster Country Club. One year later, we have three more players from Hacienda competing for the National Title!
---
Over time, our elite group of junior and college players expanded and created a playing culture that contradicted Hacienda's traditionally buttoned up persona. On any given afternoon, you can wander down to the range and see a group of these youngsters engaged in heated putting contests, or go out on the course and find them challenging each other in matches. The Tour Professional Playing Privileges Program is the perfect compliment for our young developing players. Now when you go out on the course or down to the range, you can see pros, juniors and college players playing and practicing together. You would be hard pressed to find another golf club in Southern California where something like this is happening. The new energy and elite play that can be felt and seen at Hacienda is what separates it from other clubs. It is no surprise that three of our players are going to the U.S. Open this year. At Hacienda, it was bound to happen.
Mark Anguiano became part of the Tour Professional Playing Privileges Program in June 2015. He is from Whittier, California and went to high school down the road at La Serna. He qualified for the U.S. Open after shooting -9 at sectional qualifying at Olympic Club and Lake Merced Golf Club. He was one of six players to qualify, finishing T2.
Mark played four years at Cal State Fullerton and helped his team earn two Big West Conference titles his junior and senior years. His senior year, he won the Big West Player of the Year award and finished the season with a 69.72 scoring average. Mark completed his senior year with two collegiate wins and won PING All-West Team honors. Mark also had a decorated amateur career, winning the Sahalee Players Championship in 2014 and competing in many other prestigious amateur events such as the U.S. Amateur, Western Amateur, California State Amateur, and the Pacific Coast Amateur where he lead the SCGA team to a Morse Cup victory. After finishing his time as a Titan, Mark turned professional. In 2014, he played in the Alfred Dunhill Links Championship, a European Tour Event. In 2015 he competed in four Web.com events, earning one top 25. He now is a member of the PGA Tour Latinoamerica and has conditional status on the Web.com tour for 2016.
Mark says, "Hacienda has helped me prepare for tournaments much better than any other golf course in the area. The championship layout really demands your game to be on in all facets and it's very easy to just go out on the golf course any time you want and work on your game." He agrees that Hacienda is a cut above the other golf courses and clubs in the area adding, "These are the only bent grass greens in the area. All other courses in the area have poa annua greens, which are not as fast and consistent as Hacienda's greens. Hacienda is truly a tour pro's dream practice facility." When asked about how Hacienda's unique club culture has helped his game, he notes, "Having a lot of good junior and college players here is perfect example of what a good golf course brings out. It is very enjoyable for me to play with all these players because it not only brings out the best in them, it brings out the best in me." He also wants the membership to know, "I am very grateful for the opportunity Hacienda has given me to have a new home base. I am also grateful for the wonderful people that support me here at Hacienda as well. Being here has allowed me to make new connections and be around a group of people who truly appreciate this championship golf course."
Angel Yin, from Arcadia, California became part of the Tour Professionals Playing Privileges Program in winter 2016. She qualified for the U.S. Women's Open at Industry Hills on the Ike Course shooting a 36 hole total of even par, 144. She was one of two players to qualify and battled for her spot in a playoff against Veronica Felibert of Venezuela.
She is a newly turned professional as of 2016 who enjoyed a decorated junior golf career. In 2010 at the age of 13, she played in her first U.S. Open and was the youngest player in the field. Before she turned professional, Angel was ranked the sixth best amateur in the world. She was ranked first on Junior Golf Scoreboard, Golfweek, and AJGA Polo rankings. She earned Rolex Junior All-American honors a total of four years, earning First-Team honors two of those years. In 2013, she finished T55 at the Kraft Nabisco Championship, an LPGA event. In 2015, Angel won the prestigious ANNIKA Invitational with a score of -12. That same year, she also earned two top 10 finishes at the Rolex Girls Junior Championship and the Rolex Tournament of Champions. Angel finished runner-up at the 2015 U.S. Junior Girls Championship and earned medalist honors at the 2014 U.S. Junior Girls Championship and 2015 U.S. Women's Amateur Championship. She also was a member of the 2015 PING Junior Solheim Cup and a two time winner of the California Women's Amateur Championship.
We asked Angel to tell us how she feels about having privileges at Hacienda and what it means to her. She says, "I love it. Its great. Other country clubs usually have more adult members rather than juniors and college players. Hacienda allows so many professionals, juniors and college players to play. It is good because we can practice together at the same level. Practicing together makes us all better. It is a huge honor [to be a part of the program]. It is such a prestigious golf course. It means a lot for me to be able to practice here." Angel also notes that Hacienda is a great place for her to prepare, "It is [a] really long [course] which helps me practice for tournaments and get the feel for what it will be like. The greens are fast and there is slope which [also] helps me [prepare]."
Jenny Shin became part of the Tour Professionals Playing Privileges Program in 2012. She qualified for the U.S. Open by way of her Rolex Ranking, which is 26th in the world. She is an established player on the LPGA, with over $2,000,000 in career earnings and is 13th on the Official Money List. She recently won her first LPGA event in April of 2016 at the Volunteers of America Texas Shootout. Jenny is ranked the number 1 player on the LPGA in sand saves and 13th in driving accuracy. She expresses her gratitude to the members for giving her playing privileges.
---
We are truly proud to have these three players playing in the U.S. Open and Women's Open this year. We wish them the best of luck, not only at the Open, but in their future careers. Hacienda is happy to play a part in helping tour professionals follow their dreams and hopes to continue to do so well into the future. Our championship golf course allows elite players to tremendously improve their games, and fosters championship golf at the highest level. Thank you to all our members who have supported these three U.S. Open bound pros. They are grateful to call Hacienda Golf Club home.
---