Deciding where to play and practice golf can be a big decision. It is important to find a course that not only fits your current skill level, but one that has the ability to make you a better player in the long run. Seeing improvement in your abilities can help you enjoy the game more and get more value for your money.
The most important factor that contributes to individual game improvement is a course's golf culture. A course's culture is made up of the attitudes and behavior characteristics of the people that play and practice there. Here are 5 things you should look for in a course's golf culture if you want to improve your game.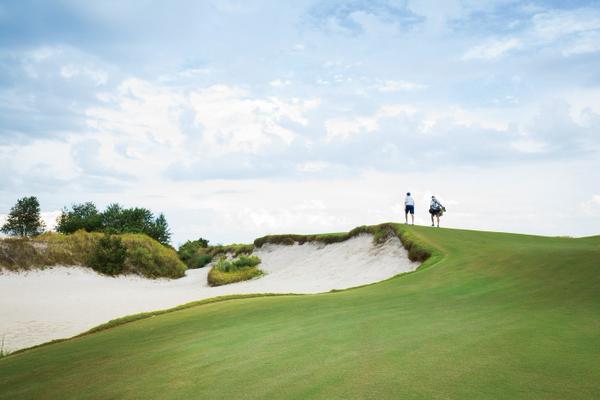 ---
The people at the course like to practice almost as much as they like to play
A golf course built to help its players improve will have quality practice facilities that are frequently used by the players. The course should have a driving range, putting green, and short-game facility with the necessary amenities to promote substantial practice sessions. This can include warm-up fans, alignment sticks, shag bags, mirrors, towels, club washers and water coolers. A course that has quality practice facilities usually promotes a culture of acceptance of all skill levels and an understanding of the need to work on your game. A course with a good practice culture will make you feel comfortable with whatever abilities you have. The atmosphere on the range should be light-hearted and fun. The players all chat with each other in between hitting balls, and even help each other with their games by recording videos of swings. You should see a wide range of age groups: ranging from junior players to seniors as well as a mix of men and women.
Friendly, and helpful teaching professionals
Another thing to look for in a course's culture if you want to improve your game are friendly teaching professionals who make themselves available to you. A course should offer group clinics as well as private and playing lessons. The Head Golf Professional should be PGA certified. When you walk into the pro shop, the pros should greet you warmly and make you feel at home. You should feel comfortable asking them questions. They can not only help you by giving you lessons, but also help you find other people to play with. They can introduce you to players of similar skill level, as well as players of higher skill level open to practicing, and playing with lower level players. It is important to meet the more accomplished players at a course since playing with people who are better than you can help make you better! A course's professionals should be able to help you with all aspects of the game: whether it be the swing, short game, putting or mental game. They should be experts in their field and be able to teach all skill levels.
Elite junior and college players
If a golf course has a lot of elite junior and college players, chances are it is a great place for anyone who wants to improve their game. If you find yourself at a course where there are bags with red "AJGA" tags or various college logos lining the range, chances are you have found a course that is dedicated to attracting and developing elite players. This kind of presence is especially important if you have a family that you want to get involved in the game. Your kids are more likely to want to go play and practice at a course if there are other people their age there. The early stages of junior golf are all about having fun. What better way to have fun than playing with your friends?
Touring professionals who give back
An important but often overlooked quality of courses built for game improvement is the number of touring professionals that play and practice there. Is the course you practice at strictly full of recreational players, or are there also a group of players who pursue the game professionally? Golf courses with the best culture for improvement often have a group of tour professionals who have honorary privileges there. They are usually young men and women who have finished playing college golf and are now on tour. These players are a great addition to a course that has a strong junior and collegiate golf presence, as they can serve as mentors to the younger group. These players take the time out of their practice sessions to talk to and play with other players at the course as a sign of gratitude for being able to use the facilities. They can be particularly helpful to anyone who wants to get better. Watching them practice or play is a great way learn about how to improve your own game.
---
Overall, a course's golf culture is an important aspect to consider when deciding where to spend your time and money. Finding a culture that promotes game improvement can help you get the most benefit out of your golf course experience. A course with a culture optimal for game improvement should always have these 5 things.