---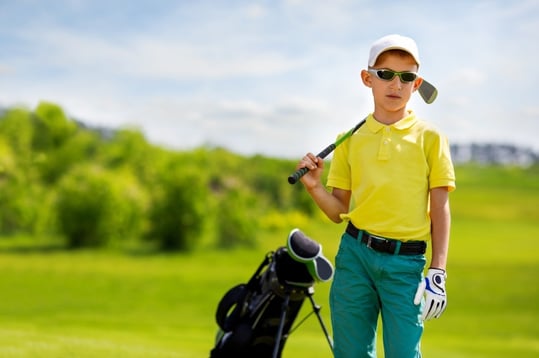 Unlike team sports, golf can be pretty boring to a youngster. It is difficult, requires a lot more practice than soccer, football or baseball and can be lonely if you don't have friends to do it with. If you want to get your kids started in golf, the most important thing to remember is to make it fun. With this theme, you and your entire family can enjoy all the game has to offer and make timeless memories together for years to come.
So what can you do as a parent to keep the game light and fun for your junior golfers? Here are my tips to help you keep your kids engaged and excited about golf.
Step 1: Bring snacks, water, sports drinks and sunscreen
When going out to the course, it is important that you go prepared! That means having enough snacks, drinks and sunscreen to last for a couple hours while you play and practice. If it is hot out, make sure you lather them up with sunscreen and bring extra to reapply every two hours. It is also important that they have enough energy, especially if you are out in the heat. Bring gatorade, water and snacks with you in a cooler for them to eat between holes or on the range. I recommend bringing healthy snacks like trail mix with M&M's.
Step 2: Take a cart
If you are just getting your juniors started out on the golf course, let them ease into it by taking a cart. This way you can let them walk when they have the energy, and ride in the cart when they are tired.
Step 3: Adjust the pars and distances
Playing a big golf course can be discouraging if the farthest you can hit it is 100 yards. Have your kids tee off from the 150 yardage marker and change the par of the holes depending on the difficulty level. For example, if a par 4 that is usually 360 yards has water along the right side of the fairway and bunkers guarding the green, shorten it to 150-250 yards and make it a par 6. This will challenge them, while giving them an attainable goal.
Step 4: Have contests
The best way to get your kids to learn about the competitive side of the game is to have contests. My favorite game that I used to play with my dad is "First On, Closest To, First In." In this game, you give a point to whoever gets on the green first, a point to the closest to the pin on their approach, and a point to the first one to make a putt. Make a deal with your kids that if they beat their previous score, you will take them to get an ice cream. Playing a game that stretches throughout the entire 9 or 18 holes you plan on completing keeps your junior golfer interested the entire time. You can also come up with other games like putting contests, long drive contests or accuracy contests. Use incentives like giving them a quarter for every par or birdie they make. This will keep the game fun and exciting.
---

I hope you find that these tips work for you and your family. Remember: junior golf is supposed to be fun. While it is important to challenge your kids, don't push them too hard. If they want to stop after 6 holes, call it a day and come back next weekend. Also, make sure you take them to a course that is family golf oriented. If you want to find out more about how to provide your kids with a place to practice and play, click below to learn more about membership at a family friendly private club. Don't let going to the golf course become a chore. Keep it fun and light hearted!
---