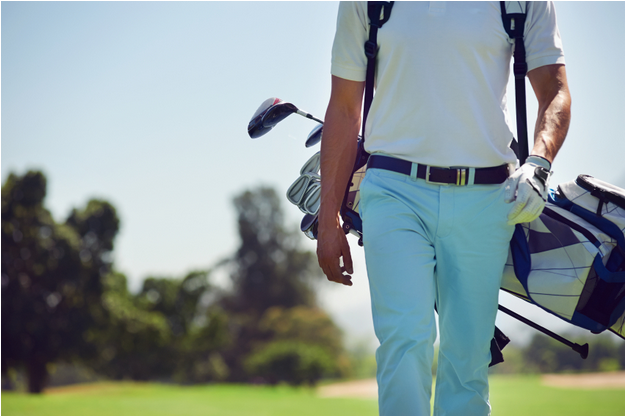 There have been hundreds of studies focused on the healthy benefits of golf. In fact, one sports medicine and science magazine claims that the death rate for golfers is 40% lower than for other people of the same age, sex and socioeconomic status, which equates to a 5-year increase in life expectancy. Who wouldn't want to sign up for that?

So just how does belonging to a golf club lead to better health?
Play More Golf, Get More Exercise
Getting more exercise is good for your health! No kidding … tell us something we don't know.

Well, did you know that golfing, even when riding in a cart, burns more than 400 calories per nine holes? Those who walk gain even more benefit, burning more than 1,400 calories per 18 holes. According to one study, burning 2,500 calories a week can significantly reduce your chances for heart disease, diabetes and cancer.

Also, golf is a low-impact sport, so as a member of a private golf club, you'll be able to enjoy the long-term benefits well into your golden years. One website ranks golf as the No. 1 form of low-impact exercise for seniors, ahead of walking, swimming, yoga and a host of other exercises. .

Here Comes the Sun!
The health benefits of sunlight were cherished by the ancient Greeks thousands of years before Scotland become known as the birthplace of modern golf. Of course, the main benefit of sunlight is Vitamin D, which has many health benefits. Vitamin D can help prevent cancer, bone deterioration, immune system problems, dementia and brain aging, weight gain, and asthma. It can even make your teeth stronger.

As a golf club member, you'll have plenty of opportunities to catch some rays, whether it be out on the course or outside on the patio enjoying your favorite food and beverage.

Other health benefits of sunlight include:
Kills bad bacteria
Beneficial effect on skin disorders (e.g., acne, psoriasis, eczema)
Lower cholesterol
Lower blood sugar
Increased oxygen to blood cells
Aside from the sun, just being out in nature is healthy. Studies have shown that constant exposure to green areas in nature relaxes the body, reduces stress and can aid in alleviating anxiety.

Golf Is a Great Social Mechanism
As a member of a golf club, you will undoubtedly spend time hanging out at "the club." And of course, other members will be there too, so it won't be difficult to make friends. Social interaction is a major benefit of belonging to a private golf club, and it actually has a significant effect on your health.

According to Health Magazine:
You'll Be Less Likely to Get Sick: In one well-known study, folks with more diverse social connections were less susceptible to colds than those who were socially isolated.
You May Sleep Better: Being lonely leads to restless sleep. According to a University of Chicago study, the lonelier you are, the more you toss and turn.
You May Stay Sharper: Having strong social support may cut your risk of cognitive decline, according to several studies.
You'll Live Longer: People with stronger social connections were 50% more likely to live longer than those with weaker connections, a 2010 analysis found.
Healthy Intangibles
The game of golf is full of life lessons, many of which contribute to our overall health. Belonging to a golf club and improving your game will transcend into patience, perseverance and self-control. Avid golfers are forced to reflect on themselves and acknowledge their strengths and weaknesses, which ultimately leads to self-improvement and better self-esteem – healthy goals for us all.

What other health benefits can be derived from being a member at a golf club?