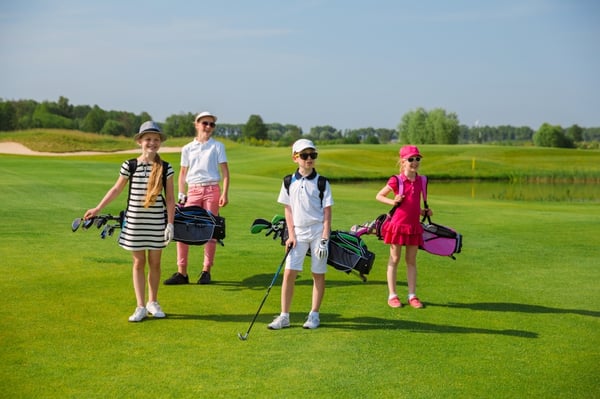 As parents, it's important that we nurture our children and motivate them to become the best they can be, but how much direction is too much direction? Are you struggling to keep your young golfer focused? Are there days when your child just doesn't want to put the work in?
Of course, becoming an accomplished golfer is no easy task… it could be argued that the widely publicized 10,000 hours of practice to master a skill is not enough in golf. It takes a lot of time and effort spent in many areas of the game to become proficient, and then there is competition, which requires an additional set of skills. In proceeding toward the goal of becoming a proficient golfer, one of the pitfalls to be aware of is potential burnout.
There are many ways a junior golfer can experience burnout, and none of them is easily identified. They may be experiencing excessive stress and pressure to perform, or perhaps they are feeling a sense of entrapment in which they struggle to enjoy the rewards of their hard work. Maybe they feel like they are losing control of their own lives. Whatever the reason, employing these techniques can mitigate the risk of your junior golfer burning out.
1. Learn to recognize potential burnout
Every child is different, but there are a few tell-tale signs that your junior golfer is beginning to experience overload/burnout. According to "Sign Me Up! The Parents' Complete Guide to Sports, Activities, Music Lessons, Dance Classes, and Other Extracurriculars," parents should be on the lookout for:
Irritability

Restlessness

Combativeness

Feelings of dejection

Apathy

Fatigue

Inability to concentrate or sleep

Uncharacteristic tantrums

Headaches and stomach aches

Loss of appetite

Stress or depression

Lethargic or unmotivated behavior

Falling behind in schoolwork
Your ability to recognize these behaviors is very important. If you see them, know that it's probably time to re-evaluate your approach.
2. Avoid over scheduling
All too often, parents spread their children too thin. If your child shows desire to become a competitive golfer, be careful not to put too much on their plate. One study claims that time spent by children in structured activities can negatively affect thinking skills that include planning, problem-solving, making decisions and regulating thoughts and actions. Children with more free time were better able to self-direct. Of course, we want to make sure our children stay busy and engaged, but it's important to find a balance. Be sure to work some unstructured free time into your child's schedule.
3. Change how your child views practice
For many young golfers, the term "practice" is synonymous with "work." Have them actively participate in the structure of their training. Practice doesn't have to be work. Set up games and activities that are fun for your junior golfer, but that are designed to improve their abilities. Enlist the help of a PGA Pro to help structure to your child's practice sessions. Add new drills and create new games to keep your junior golfer's interest...keep it fun!
4. Set goals together
It's very important for your junior golfer to see the results of their hard work. Set goals.Make sure they are challenging but attainable. Make sure they have a realistic chance at success. Discuss these goals with your child and encourage their participation in setting them. Once they reach a goal, reward them.
5. Let them set their training times
Let's be clear: This doesn't mean they can skip practice whenever they feel like it. If your child has a choice between working on their golf game and playing video games, they'll likely choose the latter. Instead, have your child participate in the development of the schedule; this will give them a sense of ownership It is a parent's job however to make sure your junior golfer sticks to the schedule they helped design.
6. Help them manage their stress
Perhaps the quickest way for a junior golfer to burn out is due to the overwhelming stress that results from lofty expectations. One study suggests that the best predictor of how a child will cope with stress is how well their parents cope, so keep your cool. Other ways to help your child deal with stress include discussing stress, listening to your child, eliminating stressful activities, utilizing relaxation techniques and building self-confidence.
7. Be inspirational
As parents, we've been there and we've done that, which makes it all too easy to be critical of our children. But no matter how constructive our criticism may be, it will eventually take its toll. Make a point to say something positive at the outset of every learning opportunity, and end every conversation with a positive thought or praise. This is not to say that you can't be critical, but it's important to find the right balance.
8. Turn frustration into motivation
Nobody wants to hear the words "I quit" from their child, but everybody has a bad day every once in awhile. Developing golf skill is often a slow process and frustration is commonplace. Help your child understand that frustration is a natural part of the game, and inspire them so they will build confidence to overcome it.
The Bottom Line: You know your junior golfer better than anyone, so it's important that you do your due diligence to keep them on the right path. It's best that a junior golfer is self-motivated. Experiment with different motivational techniques to see what works best with your child. The overall health of your child is most important. Pay attention to any warning signs, and actively combat things that can lead to burnout.
Do you have experience with a child suffering from burnout? What approach did you take? Was it successful?